Good Food and Drinks on the Beach in Tulum, Mexico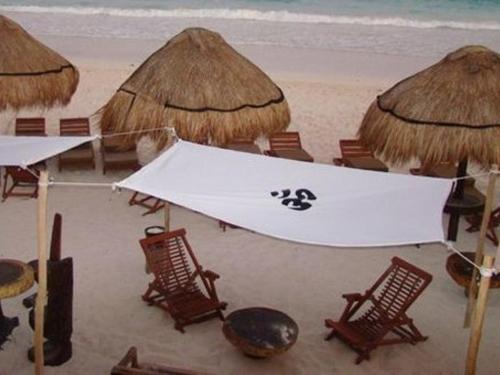 Accommodations at the Beach Club at the Om Tulum Hotel Cabanas are unrivalled, with several options to choose from as you laze about on the beach. While away the hours in a hammock among the coconut trees, people-watch from under the shade of a palapa, harem-style beach beds* that can fit up to 12 people.
The beach club in Om Tulum is perfect to host your birthday party, wedding, anniversary whatever event that is most important to you. We will work with you to make this special event one you will not forget. Small or big you are important to us.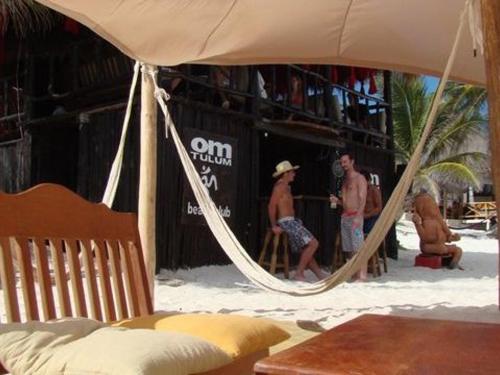 For guests who choose to go off the beaten path, OM Tulum Beach Club can help you arrange a variety of excursions and recreational activities that better suit your taste. You'll find that the hotel staff are ready and eager to help you get all that you can that a Caribbean beach holiday can offer.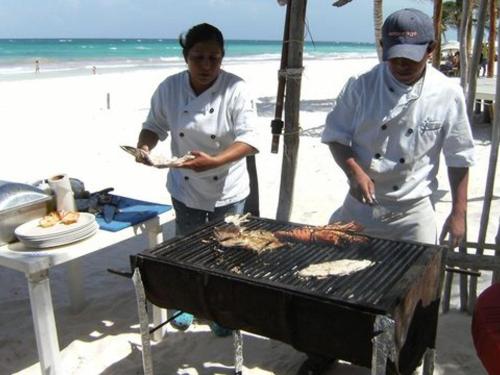 OM Tulum's beach club has a full restaurant and bar services available on the beach, you can indulge in whatever gastronomical delights that your heart (more accurately, your appetite) desires, from a creamy piña colada, to grilled shrimps, or lobster cooked on our BBQ.
If you are a star gazer ask you will be delighted by full moon nights on the beach at OM Tulum Hotel. You never know what star, comet, constelation or satellite you might see shooting by.
One of the most appealing elements of night time on the beach in Tulum, is the relative abscence of city lights and commotion. Fullmoons on Tulum beach are breathtaking. There is nothing better than being at the OM Tulum beach club enjoying a romantic night with your special someone under the vast caribbean ocean night sky.