CALAVERA
A very unique cenote with a 4 minute walk into the jungle. A
hole 6m/18ft diameter with 3m/10ft drop off to the wáter. Finding the
halocline (mix fresh and salt wáter) at the bottom of the cenote. 1.6km
noth west on the Coba road from tutlum town.
max depth 14m/45ft
40 min bottom time
dive level: open wáter
GRAND CENOTE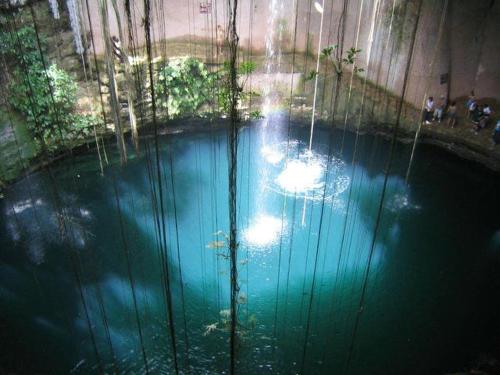 The cenote has a lots of huge colums, stalactites
and various formations. It is consider one of the Riviera maya´s best
places for snorkeling and diving. 4km north west on the Coba road fom Tulum
town
max depth 10m/32ft
45 min bottom time
dive level:open wáter
CASA CENOTE DISCOVERY
Cenote manatee or casa cenote is located in right in the middle of a
mangrove field and only a few hundred feet from the ocean.
It is one of the exits of the Sac Aktun cave system into the ocen with wide
open áreas, this dive site is perfect for newer divers.
Since it is so close to the caribbean sea and connected to it by a huge
cave, it has lots of fauna from both, the wetleands and the sea including a
few tarpon, snapper and robalos.
This cenote has a halocline and beatiful light effects. It offers an
alternative for more experienced divers, where you can enjoy moving through
passages and cracks of limestone underneath the mangrove.
20 min theory
15 min surface practice
15 min underwater practice
45 min scuba dive
DOS OJOS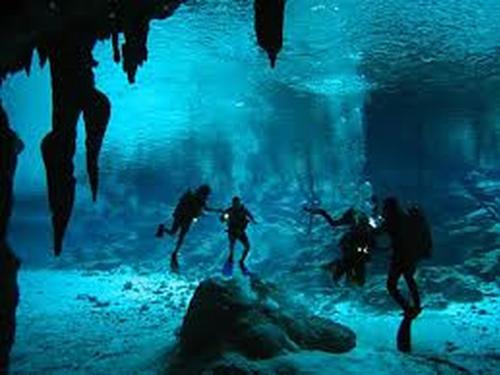 An enormous traverse between the two cenotes, the west
cenote is regarded as the best cenote to snorkel. Crystal clear wáter
highly decorated with gigantic colums and speleothems. It is the most
famous cavern dive in the Riviera maya and only 12 km north from Tulum town.
max depth 10m/30ft
45 min bottom time
dive level: open wáter ( no experience necessary)
BAT CAVE
Deeper, darker and narrowed tan dos ojos cavern zone.
It is a series of rooms and passages underneath and air filled batcave in
wich only Little daylight enters.
Good buyancy control is required
max depth 14 m/45ft
40 min bottom time
dive level:open wáter
TAK BE LUUM
Located between cenotes la iglesia and el infierno.
Underground lake with unique formationsdifferent to the rest caverns in
Yucatán península with lots of marine life, blind fish, catfish, fresh
wáter, shrimp and mexican tetras following the divers in their journey.
max depth 10 mt
visibility 30 mt
bottom time 45 min
dive level: open wáter + experince
TAK BE HA
Full in natural decoration, stalactites and stalagmites,
looks like an underground mistic cathedrl.
max depth 10 mt
visibility 30 mt
bottom time 45 min
dive level open wáter + experience
SNORKELING WITH TURTLES IN AKUMAL
Enjoy a beatiful clear ocean, great place for snorkeling